1. Matomy SEO
Matomy SEO is marketing company based in the USA that offers a marketplace for advertisers to bid on your blog. You can earn $10 or more per review that you write or $1+ for a simple backlink. It is recommended to have a decent page rank in order to get approved with Matomy SEO.
2. LinkFromBlog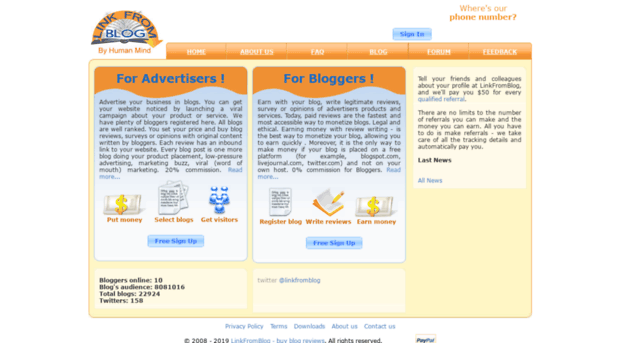 LinkFromBlog from a blog allows bloggers to expose their blog to advertisors. Once you register your blog, you may look for products to write reviews for on your blog. You can earn $5-10+ for each approved review. They also accept blogs built on free platforms such as blogger, wordpress or tumblr.
3. Software Judge


If you don't mind downloading and testing software, then this site may be for you. They pay $1 for basic software testing and reviews. If you are very tech savvy, then you can take on their more advanced projects that pay between $50-$100 per review. You do not need your own blog to register.
This site will allow you to post your website and advertisors will sumbit orders if they want you to post a review on your blog. Expect to earn at least $5 per post.
5. Ciao.co.uk
You will be paid to write reviews for a wide variety of products. You do not need a blog to register since the content will be posted on their website. Payments are based on views and the amount of positive ratings that your reviews get. You will be paid once your account reaches £5 in earnings.